About the Columbia University & Slavery Project
The Columbia University and Slavery project is a research and justice initiative examining Columbia's connections to the history and legacies of enslavement. The ongoing work aims to provide a fuller and more nuanced picture of Columbia's past, while also helping to inform conversations about the university's role in the present.
Founded in 2014, as a collaboration between the History Department, the Libraries, and the President's Office, the project has relied extensively on the work of students in two related undergraduate courses: "Columbia University and Slavery" and "Columbia 1968." Their research has greatly expanded our understanding of Columbia's extended ties to slavery, tracing how the university's affiliates – administrators, trustees, faculty, students, and employees – enslaved hundreds of people, participated in the slave trade, profited from the slave economy, and contributed intellectual, scientific, and ideological support for the institution. Student research has also explored the history of racial discrimination on campus, and in the surrounding Harlem neighborhood, focusing on how student activists and community organizers sought to combat inequalities that originated during the era of slavery.
The Columbia University and Slavery project intentionally expanded its efforts beyond 1865, extending research into the twentieth century to examine the legacies of slavery and racism on campus, in neighboring Harlem, and in other surrounding communities. Students in both courses have exposed longstanding patterns of silence and ambivalence regarding slavery and racism at Columbia. Long after the Civil War ended, students, faculty, and administrators continued to envision the school as an exclusively white, male, and Protestant space. In 1968, and during other moments of campus and community activism, these historical silences and injustices repeatedly surfaced to shape the political and social life of the campus.
Our research on Columbia, slavery, and its legacy is ongoing, and we welcome feedback and collaboration from fellow researchers, Columbia community members, and the broader public. Focusing on undergraduate instruction, we aim to help students develop archival research experience and familiarity with historical methods. We believe these skills are key to empowering students and to developing their sense of civic engagement. Thank you for your interest. Please continue to explore the website to learn more about our work, and to view the students' research projects.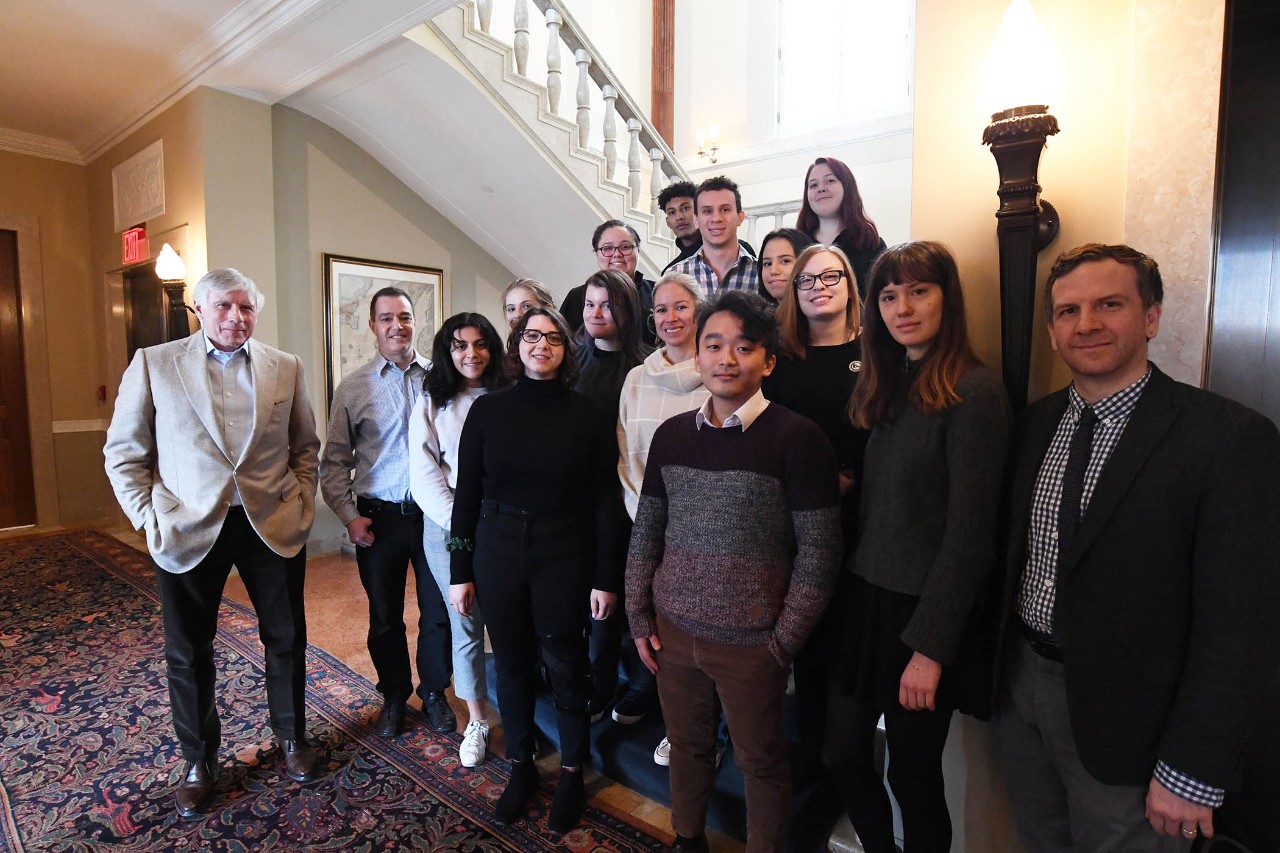 The 2019 Columbia University and Slavery Seminar meeting with President Lee Bollinger
Columbia University & Slavery Panel Discussion
In Spring 2015, Eric Foner, DeWitt Clinton Professor of History, offered a course called "Columbia University and Slavery". That seminar has continued and evolved, and has led to a deeper exploration at many levels of the University into Columbia's historical and present-day relationship to slavery, enslavement, abolition, and Civil Rights and to the development of other courses.
Dr. Foner's Preliminary Report offered a starting point, combining his original research with existing knowledge. Subsequent papers and online exhibits created by Columbia students from the research seminars have expanded our understanding of these histories. Their original work can be found with other student work from the Columbia & Slavery Seminar. This research includes a wealth of material about the university and individuals connected with it, including primary sources, and interviews with historians. While significant gaps remain in our knowledge, investigations into the subject will continue to inform this site.
We hope that this website, a work in progress, will contribute to public understanding of the key role slavery has played in our nation's history and offer an example to other institutions of higher learning as they pursue their own investigations.